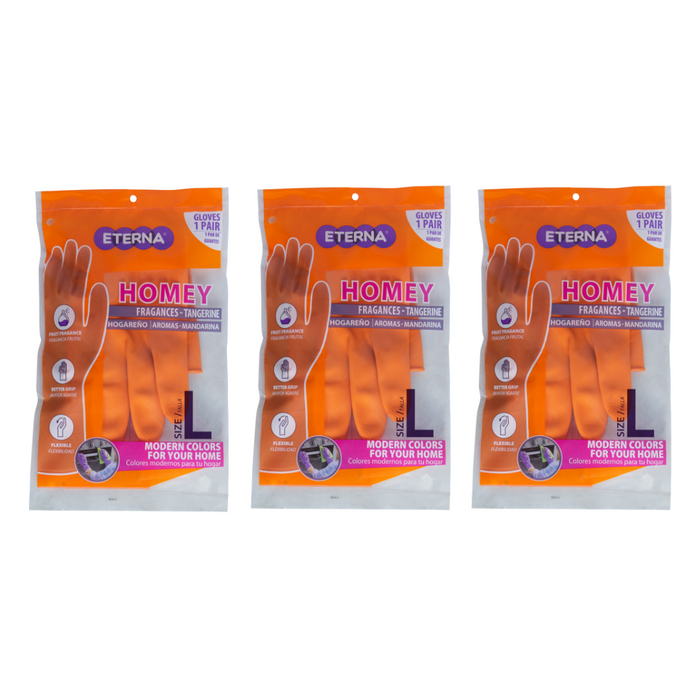 Eterna Tangerine Scent Gloves L 2.54 Oz (Pack of 3)
Original price
$14.99
-
Original price
$14.99
DESCRIPTION
The Eterna Tangerine Scent Gloves are very high-quality gloves as they are made of natural latex and go through a chlorination process for particle removal that produces allergy removal. It's got a grape fragrance and trendy color for styling your home. They have a diamond-textured palm for better grip and are softer inside for easier donning. These are flexible, durable, elastic, and resistant gloves. The anatomical design helps to reduce fatigue and stops water from entering the glove.
INNOVATIVE AND ANATOMICAL DESIGN: With a pleasant tangerine fruit aroma and bright colors to give style to your home. It adjusts to the hand, allowing a better manipulation. Avoid fatigue from prolonged work due to its maximum flexibility.
EXCELLENT GRIP: Textured on the palm which allows a better grip, which makes it easier to manipulate the utensils. Avoid tears as it has a reinforced edge on the sleeve for greater resistance.
DURABLE: With a high level of resistance that allows different tasks in the home.
MULTIPURPOSE: This rubber glove is ideal for use in different cleaning tasks at home.
EASY DONNING: The chlorination process makes it much easier to put on and remove the glove, additionally, it allows the surface to be sealed, preventing the growth of microorganisms on its surface. "