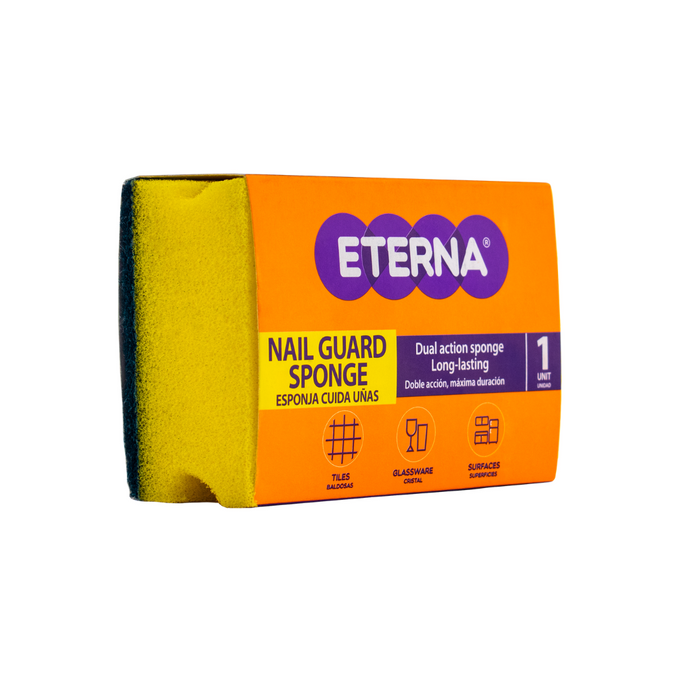 Eterna Nail Guard Sponge 0.44 Oz (13 units)
Original price
$17.71
-
Original price
$17.71
DESCRIPTION
The Eterna Nail Guard Sponge has two layers. The first one is made of a long-lasting and wear-resistant antibacterial foam. The second layer is made of an abrasive fiber which prevents bacteria and fungus growth. Ideal for household cleaning. Its classic rectangular shape helps clean difficult-to-reach places, and its side channels protect your fingers and nails. 
DUAL SIDE: Consists of 2 layers: The thinner layer is an abrasive green fiber that helps the effective removal of dirt on any Surface without scratching it. The thicker layer is made of yellow wear-resistant foam, which is ideal for delicate surfaces and tableware.
ERGONOMIC DESIGN: It has a rectangular shape that allows cleaning in difficult-to-reach places. It also has side channels for finger protection.
ANTIBACTERIAL: The scrub sponge is manufactured with antibacterial material that stops bacterial and fungal growth. It's also odor-free
IDEAL FOR: Washing all kinds of surfaces in the home, such as kitchen, walls, glass, and plastic.
RECOMMENDATIONS: Store in a cool, dry place without prolonged exposure to light. Do not approach sources of flame, spark or heat.