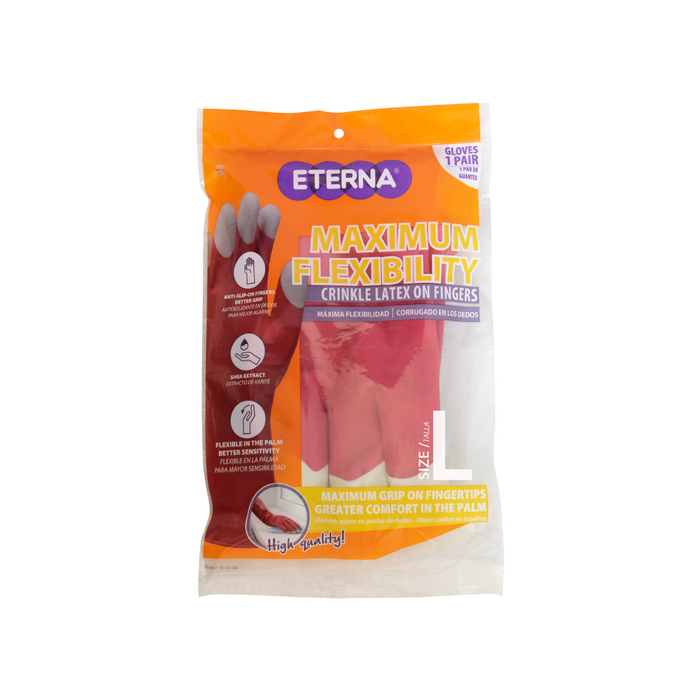 Eterna Max Flex Gloves L 2.72 Oz
Original price
$5.90
-
Original price
$5.90
DESCRIPTION
The Eterna Max. Flex Gloves have textured fingertips for a better grip, and they are more flexible in the palm, allowing a higher sensibility when doing chores. They are made of natural latex and go through a chlorination process to remove particles that can cause allergies. It has a smooth palm for higher flexibility, elasticity, and feeling. These gloves are reinforced on the fingers for a better grip when grabbing soapy objects. Ideal for the whole housekeeping process. Furthermore, their anatomical design allows a better fit to the hand and stops water from entering the glove.
INNOVATIVE AND ANATOMIC DESIGN: Glove reinforced on the fingers for a better grip on utensils such as glassware, preventing them from slipping. It adjusts to the hand, allowing better handling.
EXCELLENT GRIP: As it does not have a textured palm, it makes it more flexible and reduces fatigue in continuous use. Avoid tears as it has a reinforced edge on the sleeve for greater resistance.
DURABLE: Higher resistance that allows full housekeeping
MULTIPURPOSE: This rubber glove is ideal for use in different cleaning tasks at home.
EASIER DONNING: The chlorination process makes it much easier to don and doff, additionally, it allows the surface to be sealed, preventing the growth of microorganisms on its surface.