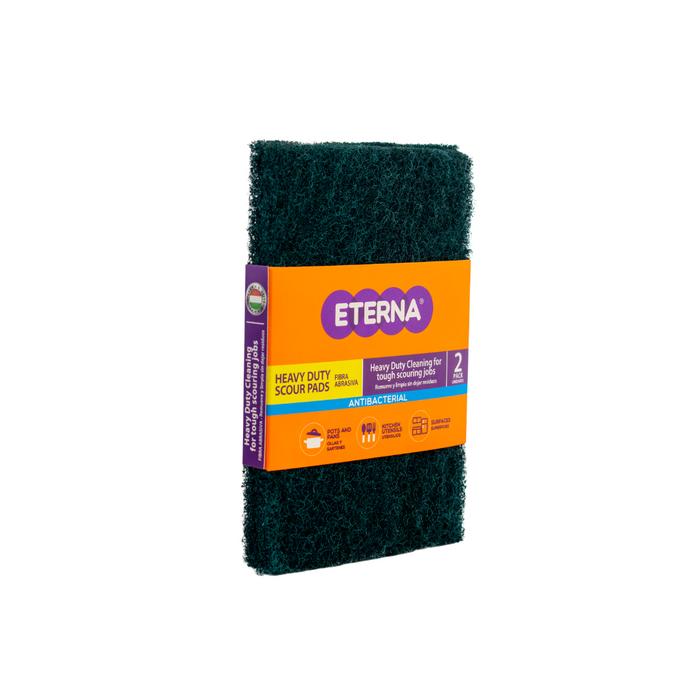 Eterna Heavy Duty Scour Pad - 2 Pack of 24 ( 48 Units included)
Original price
$38.60
-
Original price
$38.60
DESCRIPTION

The Eterna Heavy Duty Scrub Pad is made with high-quality materials that help it to be more flexible and wear-resistant. Its antibacterial power stops most common bacteria growth in kitchens and bathrooms, making it odor-free. Design for medium-duty removal, scratch-free. Its color doesn't fade nor produce waste. Its rectangular shape allows for covering a larger area to clean faster and more efficiently. Safe on tableware, cooking pots, pans, and kitchen utensils
MULTI-PURPOSES: Effectively removes residues on different surfaces in the home without scratching or damaging them.

ANTIBACTERIAL: Antibacterial power that avoids the growth of the most common bacteria in kitchens and bathrooms, and does not allow the fiber to acquire a bad odor during use.

RESISTANT: Manufactured with high-quality materials that make it flexible and resistant to wear, it does not fade or leave residues.

IDEAL FOR: Aluminum and stainless steel cutlery, dishes, pots, pans, and grills.

STORAGE: Store in a cool, dry place with no prolonged exposure to light. Do not approach sources of flame, spark, or heat.